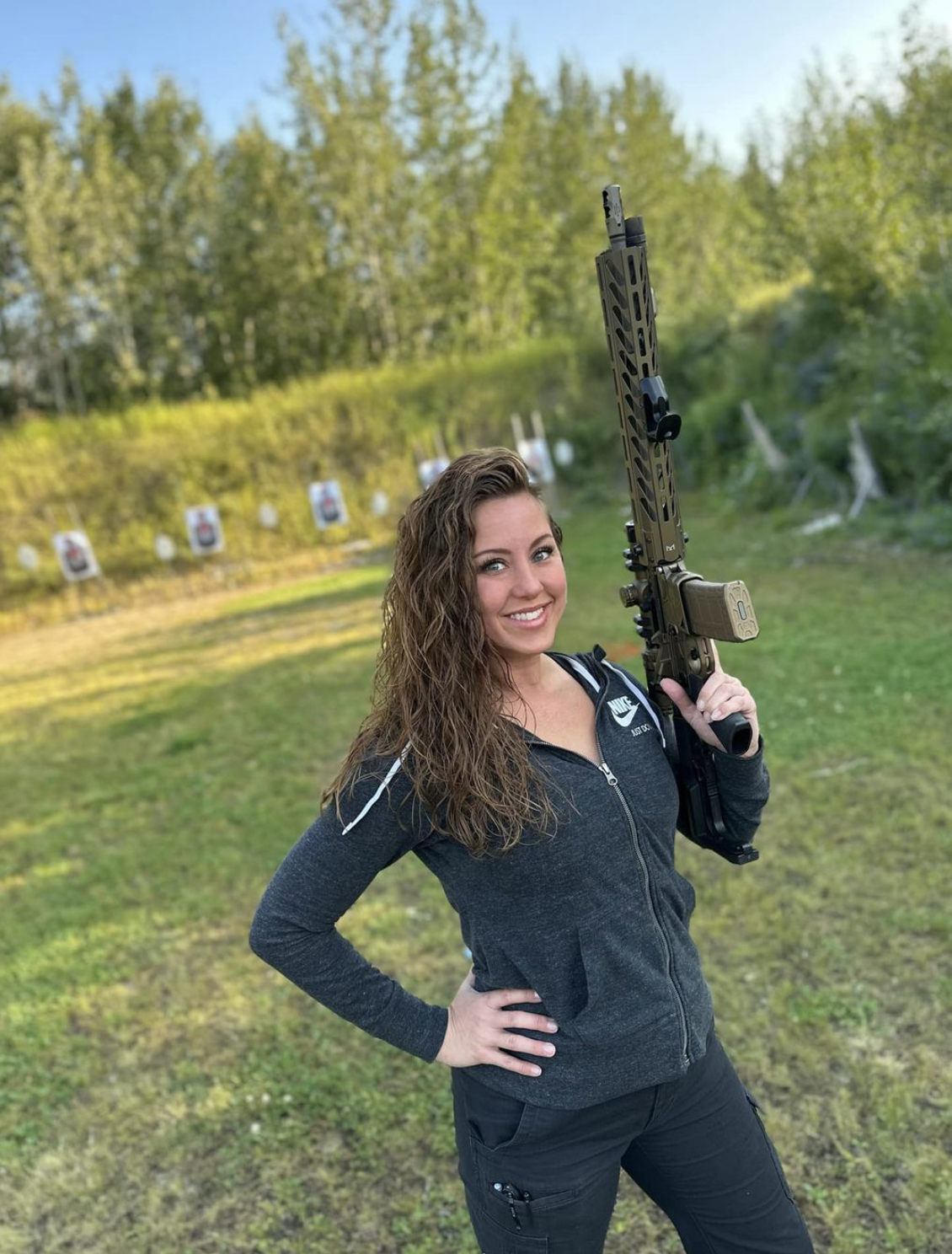 Jerah Hutchins
Gun Instructor | Personal Defense Expert | State Guardsman | Political Activist  | Entrepreneur
Jerah Hutchins is a firearms instructor, 2nd Amendment "Actionist", entrepreneur, and has been a shooter for over 30 years.  
She has been teaching responsible gun ownership all around the country for the Personal Defense Network & her own company, Clearing the Chamber for 16 years. Her nonprofit, W.A.D.E (Women's Awareness & Defense Endeavor) was launched in 2017, inspired by her own sexual assault & domestic violence encounters, where she gives free instruction to single mothers, low-income women, and those who have emancipated themselves from abusive relationships.
She has written workshops over the years that speak directly to women who have embraced the #2A life including "How to Protect What You're Expecting", "Time Management for Women Who Carry", "Prepare in What You Wear" & "The What If Scenarios".  
She is also known for testifying on the local and national level in defense of gun rights along with her staunch and direct social media stance that the 2nd Amendment "shall not be infringed". 
What clients are saying….
"A few weeks ago I asked Jerah to do my LTC course and she did an amazing job! Since then for Christmas, I gave the whole family the course through Jerah at Clearing the Chamber! We had some coming in from Florida and Jerah was able to flex her schedule to make it fit for us! She is so thorough and was able to answer any questions we had. We are now booking defense courses with her and cant wait to get started. We highly recommend Jerah!"
"AWESOME EXPERIENCE, I took the LTC class with my daughter. I grew up hunting and have used rifles and have always been around hand guns, because my father was in law enforcement, but it's been at least 18 yrs I have done any hunting. My daughter had never handled or shot a pistol until the day at the shooting range. Jerah was so patient with her and myself of course. She is very knowledgeable in her experience with hand guns, and makes you feel so confident that my nervousness went away. When you take the 3 hour LTC class before the shooting proficiency she was so informative on the laws for us gun owners and I loved she used videos of real-life scenarios easy to visualize. The class goes by so quickly didn't feel like 3hours. She is an amazing instructor I highly recommend for anybody wanted to get there LTC or any other classes she offers lots look up Clearing the Chamber. I know I'm planning to do some other classes. Thanks again Jerah Fantastic job."
"If you don't know, now you know.. Jerah is incredible. We took her LTC class last month and she knows how to keep you entertained! She is passionate about gun safety and being able to know how to properly use a gun in case you need to defend yourself. She offers so many classes and we are looking at taking a few others."
"I took the ladies-only intro to handgun class. I grew up hunting with rifles and shotguns but never had experience with handguns. Going into this class I had very high anxiety and fears when it came to handguns. This class by far exceeded my expectations. I learned more in this class about handguns than I even know about the guns I grew up shooting. When it came down to going to the range portion Jerah was very patient with everyone in the class including myself. She was right there with me as I worked thru my anxiety and pulled the trigger for the first time overcoming that fear. I would recommend this class to everyone and can't wait to have my daughters take it. I will be booking many more classes with Jerah to increase my knowledge and confidence."